Orange County Pet Dental Services Coupon
Newport Harbor Animal Hospital – Pet Dental Services
As one of Orange County's oldest Animal Hospitals serving pet dental health care needs of the Costa Mesa/Newport Beach/Irvine and surrounding cities since 1947, we have found that good pet dental care, at all ages of your pet's life, really pays off as your beloved pet ages. When your pet's teeth go bad, eating is painful, nutrition declines and an animals health erodes.
As an Orange County's leading American Animal Hospital Association accredited hospital, we follow all the AAHA Pet Dental Care Guidelines. In these guidelines it is stated that pet dental care, for your pet, is essential to provide optimum pet health and quality of life. We all have examples of oral pain and how miserable it can make us. The same is true of our pets.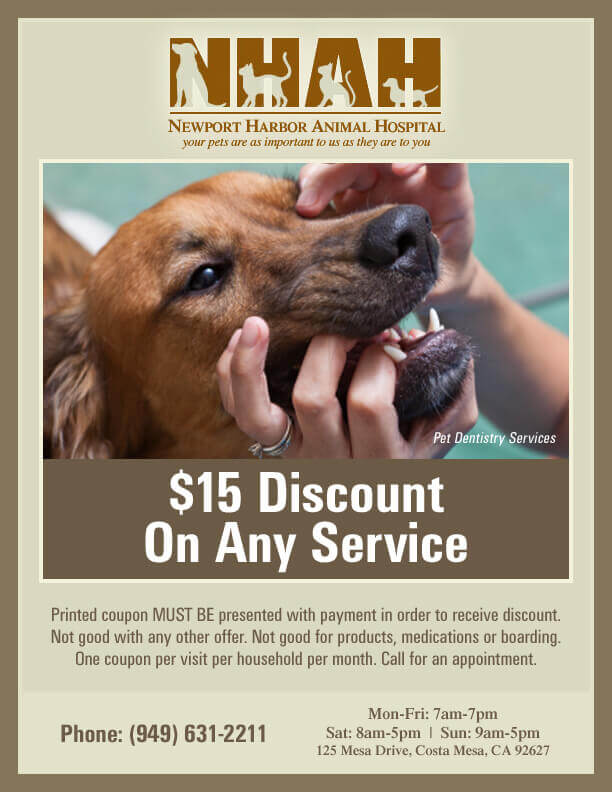 The dental exam on an awake pet helps us to plan for treatment of the mouth. However a complete dental exam can only be done on a pet under anesthesia. The strict standards we follow before, during and after an anesthetic procedure, help to ensure that your pet is safe and comfortable.
Please visit our pet article section for a complete over view on Pet Periodontal Disease Prevention and Treatments