Orange County Animal Hospital
As Orange County's oldest and leading Animal Hospital we would like to extend $15.00 Discount On Any Service. Including a full range of medical services for dog and cat health, your pets are as important to us as they are to you! At our Orange County Animal Hospital you will find a State-of-the-Art facility with the latest array of equipment to serve all your pet's health and medical needs.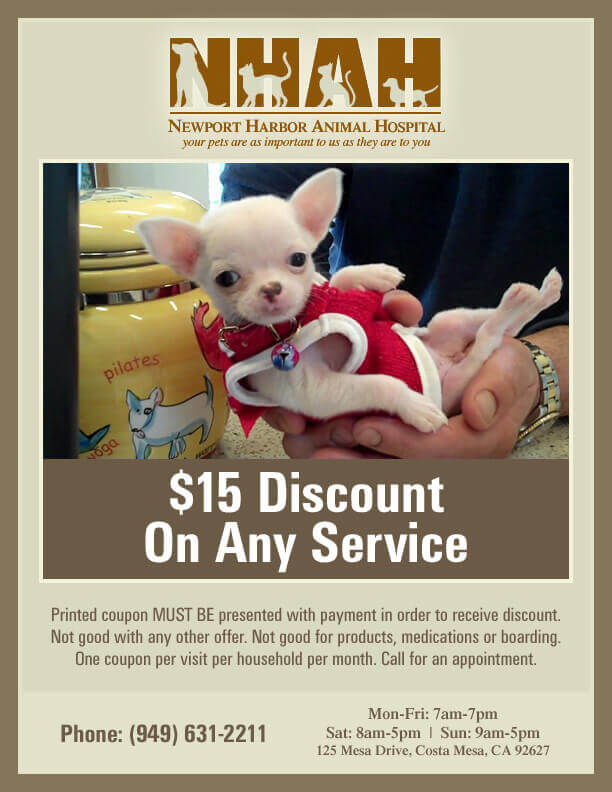 Orange County Veterinary care services we provide:
AAHA Accredited Veterinary Care
Annual wellness exams – Lifetime health care recommendations for your pets
Reproductive services/exams
Breed associated health recommendations
Surgery – Expertise, compassion, technology
Pet Dental – Prevention, treatment
Pediatrics
Radiology
Cardiology
Laboratory Services
Endoscopy
Ultrasound
Spay/Neuter
Laser Surgery
Microchip placement and Animal identification services
Nutritional Counseling/prescription diets
Flea and internal parasite control for all your pets needs
Behavioral pet Counseling
Animal Vaccinations – the single most important method for protecting your pet
Pet Boarding with attendant on duty 24 hours a day
"Penelopes" 20 years of Pet Grooming experience
Our Pet Health Mission
Our mission at Newport Harbor Animal Hospital is: "To provide the highest quality veterinary care for our patients and the best service for our clients. Our goal in every case is a healthy pet and a happy client."
We welcome your inquiries and invite you to learn more about us and how we can serve all your Orange County Animal Hospital needs Phone: (949) 631-2211.
Newport Harbor Animal Hospital Hours
Mon-Fri 7am-7pm
Sat 8am-5pm
Sun 9am-5pm